2021 Thermaltake CaseMOD Invitational Season 1
Final Voting Starts Now
Vote Now for a Chance to Win Thermaltake's Latest Products
Taipei, Taiwan-October 19th, 2021
-
Thermaltake
, the leading PC DIY premium brand for Case, Cooling, Gaming peripherals and enthusiast memory solutions, is excited to announce the final voting of the 2021 Thermaltake CaseMOD Invitational Season 1 starts today. Started in June, this 4-month journey is reaching its end, now is the time to select the winners!
The 2021 Thermaltake CaseMOD Invitational Season 1 Final Voting starts from October 19
th
to October 31
st
, 2021. The top three winning contestants will receive up to USD 15,000 cash prizes in total, and the winners will be announced in November 2021. Hence, if you want to support your favorite modder and win prizes, do not hesitate to register and become part of the Tt family. Everyone is welcome to register on the Tt Community forums and vote for your favorite mod/modders. After logging onto the platform, all you have to do is simply cast your vote on the voting thread. Once you have completed the voting, you will have the chance to win some amazing prizes from Thermaltake including a
Core P6 Tempered Glass Mid Tower Chassis (Black)
and a
TOUGHLIQUID Ultra 360 CPU AIO Liquid Cooler
. Prizes will be given out to randomly selected voters, don't miss out!
Vote now:
https://bit.ly/3oyfxKt
Video:
https://youtu.be/SYQIUJulFSs
Meet the Modders and their amazing Mods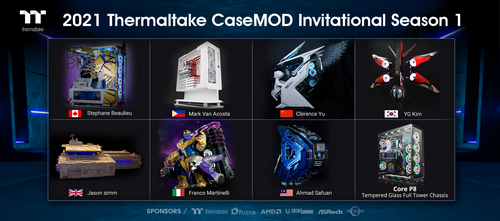 [Malaysia] Ahmad Safuan
is a master at CNC and 3D design, and he re-designed the case and made it a triangular distro case design with beautiful handwork.
[China] Clerence Yu
re-imagined the case and created amazing outer parts taking the Core P8 to the next level.
[Italian] Franco Martinelli
made a movie-themed "Thanos" build, the whole design was 3D printed and hand-painted to perfection.
[Philippines] Mark Van Acosta
built a white-themed mod, very clean and detailed his craftsmanship is out of this world.
[United Kingdom] Jason Simm
implemented a lot of wood to his build, the design revolves around a cool spaceship.
[Canada]
Stephane Beaulieu created a clean build with gold accents, the build is very detailed in every aspect, whilst keeping the original integrity of the case.
[South Korea] YG Kim
handcrafted and cut a lot of the parts for his mod, the design is with red accents and beautiful angles.
How to Vote and Voting Rules
Voting will be held on the Tt Community forums. The total percentage of the score allocated to the community voting is approximately 25%, with 15% by Thermaltake, 25% by professional modders, 25% by sponsor judges, and 10% by Thermaltake's CEO Kenny Lin.
Listed Prizes for Voters
Core P6 Tempered Glass Mid Tower Chassis (Black):
https://www.thermaltake.com/core-p6-tempered-glass-mid-tower-chassis.html
TOUGHLIQUID Ultra 360 CPU AIO Liquid Cooler
https://www.thermaltake.com/toughliquid-ultra-360-all-in-one-liquid-cooler.html
Our Sponsors
This season we have a big team of partners, ZOTAC will be providing the modders with ZOTAC GAMING GeForce RTX 3060 Twin Edge graphic cards, AMD with AMD Ryzen™ 5 3600 Processors, ASRock with B550 Extreme4 motherboards, and Plextor with M9Pe(Y) SSD's
For more event information, please visit:
Event website:
http://casemod.thermaltake.com/2021s1/
Tt Community:
https://bit.ly/3oyfxKt