2016 Thermaltake CaseMOD Invitational Season 2
Congratulations to the Top 3 Winners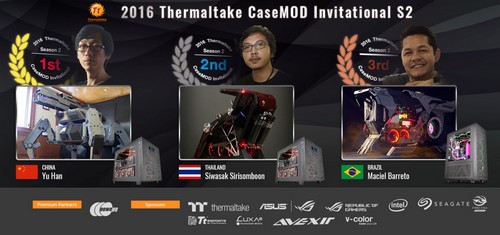 Taipei, Taiwan-February 23rd,2017- Thermaltake, an industry leader in computer chassis, thermal solutions, and power supply units, presents the biggest international modding event "Thermaltake CaseMOD Invitational " of the year since 2015, this is the place to encourage the case modders and enthusiasts to go after their dreams. The most exciting international modding event of the year, the 2016 Thermaltake CaseMOD Invitational Season 2, officially ended today. The list of winners of the event is also announced by Thermaltake: The top three winners are Chinese modder Yu Han, Thai modder Siwasak Sirisomboon and Brazilian modder Maciel Barreto. The CaseMOD event has successfully ended. Thermaltake would like to thank to the premium sponsor Newegg, and other sponsors, including ASUS, Intel, SEAGATE and V-Color. Without their supports, it would not be possible to hold the event. Lastly, Thermaltake would like to congratulate the top three winners and thank all the modders who participated in this event. Everyone did a fantastic job!
2016 Thermaltake CaseMOD Invitational Season 2 Winner Announcement Video: https://youtu.be/Qex9_Yw8_BI

2016 Thermaltake CaseMOD Invitational Season 2 - Battle for the best
Look back at the event, Thermaltake is proud to invite twelve of the world's top modders from the United States, Ecuador, Brazil, Germany, France, Poland, Russia, China, India, Thailand, Malaysia and Australia to participate in the event. Contestants used various Thermaltake's products, such as the Toughpower DPS G RGB 1250W Titanium smart power supply along with the premium-quality liquid cooling components, to transform the Core X71 Full Tower Chassis or the Core X5 ATX Cube Chassis into their own creation. Participating modders were also given the option of building a single or dual system with an unlimited selection of Thermaltake products to transform and install onto their creation.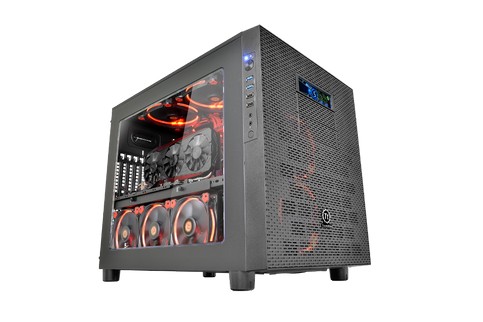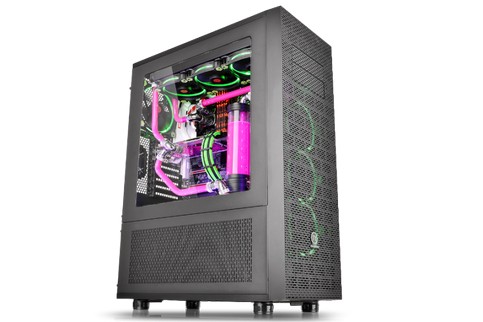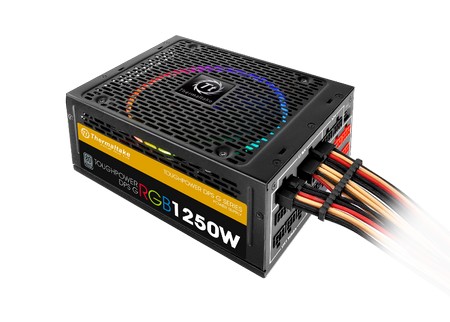 Meet the Winners
1st Place Yu Han: a well-known PC modder from China, Yu applied a disruptively innovative method to transform a Core X5 case into a marvelous creation that has four movable claws, a laser cannon and a cockpit. He named the project as A War Machine from the Future.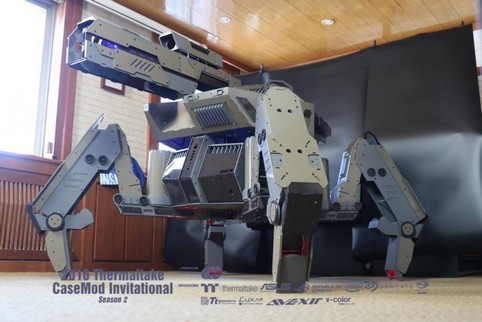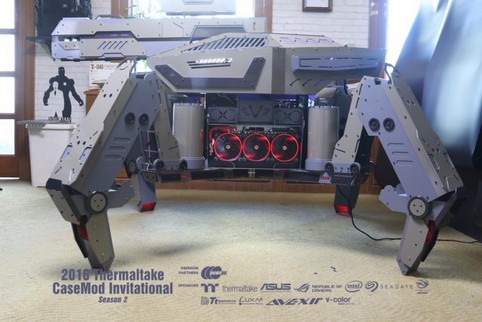 2nd Place Siwasak Sirisomboon: a full-time modder from Thailand, Siwasak has done most of his projects by handcraft. He used the ROG robot as the inspiration to create a red themed Core X5 mod, and called it as ROG Red Base.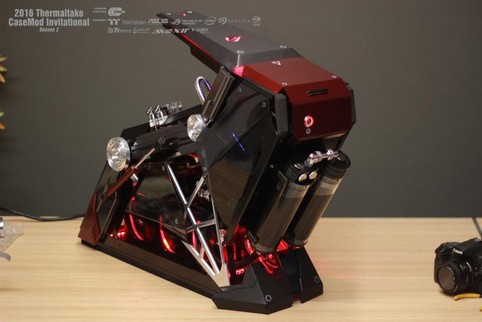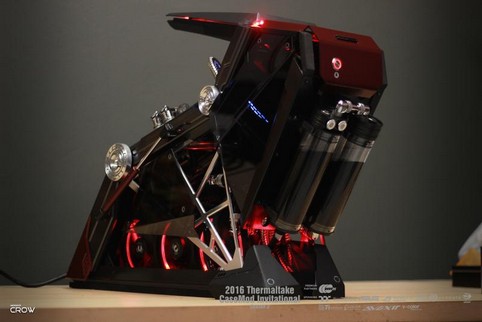 3rd Place Maciel Barreto: Maciel from Brazil is good at create a PC build that is not only innovative and unique, but also can reflect his own style. In the contest, he demonstrated his awesome modding skills and modified a Core X71 into a stunning TT MYTRA creation.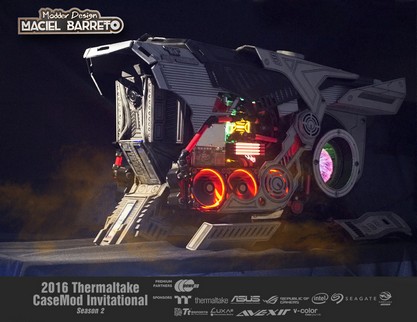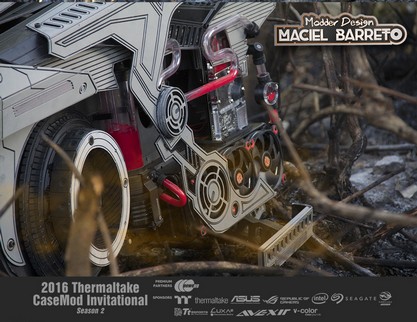 Mark of Perfection
2016 Thermaltake CaseMOD Invitational Season 2 judges were selected from few of the professional modders, Thermaltake gaming case product team, the president of Thermaltake, and Newegg, also members who votes via Tt Community and TtMOD App. The entries were all top quality and have demonstrated their sophisticated modding skills. Hence, it was not easy for the panel of judges to select the winners. The judges were required to evaluate and score three aspects of the participant builds, including Originality, Style, and the LCS Loop. After two weeks of community voting, Newegg internal voting, professional modders, and Thermaltake internal voting all votes pointed to Chinese modder Yu Han, Thai modder Siwasak Sirisomboon and Brazilian modder Maciel Barreto.

For more details on the Thermaltake 2016 CaseMod Invitational Season 2 please visit:
Official Website – http://casemod.thermaltake.com/2016s2/
Download Tt MOD App on the App Store – https://goo.gl/qmXMOy
Download Tt MOD App on Google Play – https://goo.gl/pfVwHb