Thermaltake brands at COMPUTEX Taipei 2017– Foreword
Thermaltake‧Tt eSPORTS‧LUXA2
Game with your MOD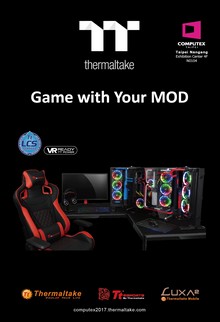 Taipei, Taiwan -May 16th , 2017-Thermaltake a cultural brand for the enjoyment of entertainment, esports, technology, and lifestyle together with Thermaltake Gaming – Tt eSPORTS, Thermaltake Mobile – LUXA2 will showcase extraordinary modding, gaming, and mobile total solutions at COMPUTEX Taipei 2017, during May 30th (Tue) – June 3rd (Sat) 2017 in TWTC Nangang Exhibition Hall (4th floor, booth number N0104). 2017 marks the 18th anniversary of Thermaltake, and to celebrate Thermaltake continues to highlight the message "Game with your MOD". "Game with your MOD", positions Thermaltake as the go-to brand for PC modding and gaming total solution with our professional, innovative and technological skills. And this year Thermaltake is seeking to provide advanced gamers and modders next level options with the TT Premium brand, by offering the finest and most diverse liquid cooling, case modding, and gaming solutions. Thermaltake will also be displaying the "Thermaltake RGB Family", which features stunning and innovative RGB cases, power supplies, air and liquid cooling products; including RGB gaming accessories like keyboards, mice, headsets, and professional gaming chairs.
Lastly, during the Thermaltake COMPUTEX Opening Ceremony, we will unveil a new conceptual product that will once again rock the gaming industry!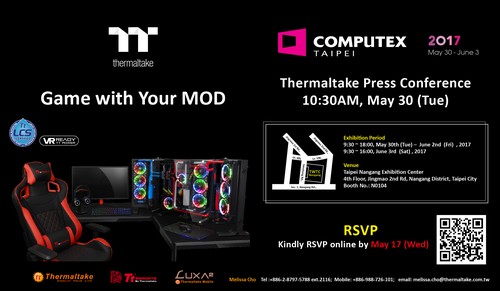 Join us for New Products and Awesome Activities
Thermaltake will be showing off new products like the View 71 Tempered Glass Edition Full Tower Chassis, the Toughpower iRGB PLUS 1250W Titanium Smart Power Supply, Floe Riing RGB TT Premium Edition All-in-One Cooler Series, and many more. High-profile modders from the Thermaltake CaseMOD Invitationals will also be at the event to display The Tower 900 and Core P7 casemods. Alongside, Tt eSPORTS will be displaying amazing new products as well, like the NEMISIS Switch Optical RGB gaming mouse and other fan favorite gamer gears. In particular the GT FIT & COMFORT and X FIT & X COMFORT professional gaming chairs series will be making its debut at COMPUTEX. LUXA2 will be revealing the new Lavi X Sports Wireless Earbud Headset. During the exhibition, Thermaltake will hold many cool activities like modder demonstrations, collaborations with CyberMOD, and gaming competitions. These will all be live streamed on the Thermaltake & TteSPORTS YouTube Channel and Thermaltake & Tt eSPORTS Facebook Pages.

Further information about Thermaltake at COMPUTEX Taipei 2017 is available online:
http://computex2017.thermaltake.com/

Thermaltake — The Case Legacy
The New Thermaltake View 71 Tempered Glass Edition Full Tower Chassis
Designed to expand the legacy of the View Series lineup, Thermaltake will unveil View 71 Tempered Glass Edition, designed with an enclosed 4-side 5mm tempered glass (left, right, front & top) for users to enjoy the ultimate internal component visibility. This elegantly designed piece comes with two preinstalled 140mm Riing Blue LED fans, seven tool-free drive bays with modular drive racks. With supports for the latest PC hardware, the case is not only fascinating in appearance; when it comes to performance, the only thing that will limit its capabilities is user's imaginations.

Thermaltake — CaseMOD Masterpieces
Thermaltake will invite the world's top modders, including Jesse Palacio, Peter Brands, Tim Warning, Ronnie Hara, Ron Lee Christianson, Corey Gregory, Mathieu Heredia, Yu Han, and Mike Petereyns, to present their The Tower 900 mods as well as introduce their modding ideas. Stuart Tonks will bring his Core P7 TG mod from Australia to display at the booth. Suchao Prowphong, winner of the 2016 Thermaltake Modding Fighting Championship (MFC), will also attend and showcase the WP100 build.

Thermaltake — Power Up with RGB
Thermaltake will unveil the latest line-up of power supply units. Making its debut is Toughpower iRGB PLUS 1250W Titanium – TT Premium Edition, the world's first 16.8 million-color RGB PSU with 12 addressable LEDs, and Smart Power Management (SPM) supported. Also on display for the first time is a new member of analog PSU family with a customizable 256 colors RGB fan – Toughpower Grand RGB Platinum Series (850/1050/1200W).

Thermaltake — RGB Cooling Family
Thermaltake will reveal three soon-to-be-released liquid cooling products, including the Pacific RL360 Plus RGB Radiator, Floe Riing RGB TT Premium Edition All-in-One Cooler Series and Pacific W4 Plus CPU Cooler. These products are compatible with patented Riing Plus RGB software and the app. The newest flagship products of each sub-product lines, such as Riing Plus RGB Radiator Fan TT Premium Edition Series and TT Premium Concentrate Coolant Series, will also be showcased at the booth.

Thermaltake — Cool Collaborations & Event Live Stream
Thermaltake live stream will take place on the Thermaltake YouTube Channel and Thermaltake Facebook Page from 30th May to 2nd June. The stream will feature modder interviews and new product walkthroughs at COMPUTEX 2017. Additionally, Thermaltake will be a premium sponsor of the CyberMods 24hrs, and will be supplying each team with Toughpower Grand RGB 850W Gold Fully Modular Power Supply and an unlimited selection of Thermaltake liquid-cooling components to modify the Core P3 Open-Frame ATX Wall-Mount Chassis.


Thermaltake Gaming Tt eSPORTS — New Gaming Mouse for Winners
The new NEMESIS Switch Optical RGB Gaming Mouse comes with its exclusive patented key switching system for an enhanced gaming experience. Enthusiasts can customize up to 12 switch keys to suit different playing styles, hand sizes, and for enhanced ergonomic comfort. The use of Japanese branded OMRON switches with a 50-million click lifespan provides durable, consistent, and accurate tactile feel with each click for maximum responsiveness; and the use of a high quality gaming grade optical sensor with up to 12000 DPI provides precision gaming to enthusiasts, whilst the utilization of 16.8million RGB colors lets users light up their battles.

Thermaltake Gaming Tt eSPORTS — Hybrid of Style & Hi-tech
Tt eSPORTS also reveals the new member for its Level 10 family, Level 10 M Hybrid Advanced Laser Gaming Mouse. The Level 10 M Hybrid Advanced Laser Gaming Mouse built with a laser engine up to 16000 DPI that can be used on most surfaces. OMRON engineered switches have a lifetime of 50 million clicks, improved ergonomic shape design for better hand grip feeling with an additional rest-plate design to reduce friction while moving and has a brilliant RGB illumination with 16.8 million color.

Thermaltake Gaming Tt eSPORTS — Bringing Color to Sound
The new CRONOS Riing RGB 7.1 comes packed with features and latest tech offering up an oversized 50mm state-of-the-art tilting neodymium driver and true RGB engineered with 16.8 million color illumination amongst 8 different lighting effects gives you unparalleled customization options to personalize your own battle colors. It also comes equipped with the latest 7.1 premium virtual surround sound technology to offer the most immersive 3D sound experience to ensure you hear all sounds with pinpoint accuracy for that all-important competitive edge.

Thermaltake Gaming Tt eSPORTS —Not the Ordinary Mouse Pad
The DRACONEM RGB Touch gaming mouse pad encompasses the latest in biometric fingerprint technology that lights up your gaming environment and gets you into competitive sync for the challenges that lie ahead on the battlefield. With a gorgeous spectrum of visual effects and lighting profiles, the DRACONEM RGB Touch implements a specially optimized hard surface that unlocks refined accuracy and supreme precision aim. Through easy to access hardware & software controls you can adjust lighting effects without hassle – and get the style you're looking for in a matter of seconds. Arm yourself for battle and let the DRACONEM RGB add a splash of personalized color to your gaming setup.

Thermaltake Gaming Tt eSPORTS — Gaming Chairs for the Ultimate Pro
TteSPORTS will reveal the GT FIT & COMFORT and X FIT & X COMFORT series professional gaming chairs, the new GT FIT & COMFORT series also available in black/red, black/blue and black/green color options and the X FIT & X COMFORT Series comes with an exclusive carbon faux leather design for those that desire ultimate luxury style. Built with stunning streamlined gaming aesthetic and mixed with true ergonomic form with maximum function; the chairs create a perfect balance between desired gaming comfort and expected performance during the most intense gaming sessions. With anti-fatigue design and the highest quality of construction materials, the chair offers maximum customization to suit both gaming and comfort needs of enthusiasts

LUXA2 Thermaltake Mobile — Award Winning Mobile Experience
As a market leader in power, audio and holder solutions, LUXA2 will once again be attending the highly anticipated COMPUTEX 2017 with their iconic and award winning power, audio and holder solutions. In the power category, enthusiasts will be treated to a series of lightweight and portable power solutions for the ever-growing smartphone and tablet power lifestyle demands; and in the audio category, visitors can see firsthand the 2017 Reddot Design Award winning Lavi X Sports Wireless Earbud Headset built for sports and optimized for workouts. Finally in the holder category, guests can feast their eyes on the stunning E-One Aluminum Headset Holder collection, which is available in the four magnificent colors of silver, stealth black, champagne gold, and flush rose gold. Come and join us at COMPUTEX 2017 and prepared to be amazed.