Thermaltake Level 20 Concept Design Astounds at COMPUTEX Taipei 2017
Liquid-Cooling Gaming Chassis Reinvented


Taipei, Taiwan -May 30th, 2017-Thermaltake today unveiled the new Level 20 liquid cooling gaming chassis concept design and other advanced PC hardware at the Thermaltake Opening Press Conference at the COMPUTEX Taipei 2017. Gamers who prefer maximum PC performance and luxurious style would be interested in the aluminum-made Thermaltake Level 20. The Level 20 inherits not only the iconic "Architectural Aesthetics" of Thermaltake, but also the classic "Chamber Design" of the Level 10 chassis family. The concept is inspired by the vision of creating a functional and visually stunning gaming chassis. The Level 20 is designed with roomy installation space for building a powerful cooling system and mounting high-end PC hardware. The internal structure is also optimized for space management by separating the cooling loop; PSU and HDD cages into a different chamber. With an enclosed 3-side 5mm thick tempered glass, the Level 20 allows gamers to enjoy the ultimate internal component visibility.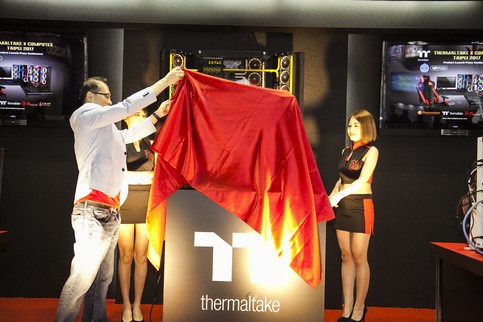 The new Level 20 Concept Design is on display at the COMPUTEX Taipei 2017, during May 30th (Tue) – June 3rd (Sat) in TWTC Nangang Exhibition Hall (4th floor, booth number N104); we look forward to your visit!
Further information about Thermaltake at COMPUTEX Taipei 2017 is available online:
http://computex2017.thermaltake.com

Brand New Products from Thermaltake.Tt eSPORTS.LUXA2
Also debuting at COMPUTEX 2017 are the Toughpower iRGB PLUS 1250W Titanium TT Premium Edition Smart Power Supply, Toughpower Grand RGB Platinum Series Analog Power Supply, Pacific RL360 Plus RGB Radiator, Floe Riing RGB TT Premium Edition All-in-One Cooler Series and Pacific W4 Plus CPU Cooler. Other new products at the Thermaltake booth include Riing Plus RGB Radiator Fan TT Premium Edition Series, TT Premium Concentrate Coolant Series, Tt eSPORTS NEMISIS Switch Optical RGB Gaming Mouse, Tt eSPORTS GT FIT & COMFORT and X FIT & X COMFORT Gaming Chairs Series, and LUXA2 Lavi X Sports Wireless Earbud Headset.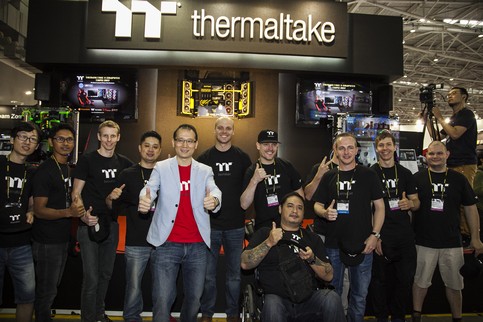 Thermaltake Celebrates 18th Anniversary with Top Modders
This year marks the 18th anniversary of Thermaltake. World top modders from the Thermaltake CaseMOD Invitational are also at the event to present The Tower 900 and Core P7 casemods. Thermaltake is proud to invite Suchao Prowphong, winner of the 2016 Thermaltake Modding Fighting Championship (MFC), to the event with his WP100 build. Thermaltake will conduct an in-depth interview with each modder in terms of their modding projects. All the interviews will be live-streamed on the Thermaltake YouTube Channel and Thermaltake Facebook Page from today till the 2nd of June.

Thermaltake Engine 27 wins COMPUTEX d&i Awards 2017
Thermaltake is honored to win the COMPUTEX d&i awards 2017. Facing a stiff competition of 255 entries, the award-winning Engine 27 1U Low-Profile CPU Cooler is the ideal CPU cooling solution for slim and small form factor applications with its 27mm height. Furthermore, the metallic structure, 129 metallic radial fins design and forty fan blades reduce the blade's noise and vibration. The Engine 27 solves the co-existing problem of high performance RAM and CPU coolers, by achieving the best RAM clearance. Unlike traditional CPU coolers, the Engine 27 1U Low-Profile CPU Cooler is the ideal choice for any slim systems.
Thermaltake COMPUTEX d&i Awards: https://goo.gl/R0PbIR
For more details on the Thermaltake Engine 27 1U Low-Profile CPU Cooler please visit:
http://www.thermaltake.com/products-model.aspx?id=C_00002957