Thermaltake Unveils Floe Riing RGB TT Premium Edition Series at COMPUTEX Taipei 2017
The World's First 16.8M Colors All-In-One Liquid Cooler


Taipei, Taiwan-May 31st, 2017-Over the past few years, Thermaltake has started to combine its product design with the innovative LED light to satisfy the market where users have opted for stylish PC systems with advanced features and aesthetic appeal. Thermaltake today is excited to announce the latest Floe Riing RGB TT Premium Edition Series, the world's first 16.8 million colors liquid CPU cooler lineup. Available in 240mm, 280mm and 360mm, Floe Riing Plus RGB is an all-in-one cooler series with a gorgeous LED waterblock and digitally controlled Riing Plus RGB high-static pressure fans. This new cooler series by TT Premium features extraordinary cooling performance, superior quality, and addressable LEDs design. Both of the waterblock and the fans are manufactured with multiple addressable LEDs that can be controlled by the exclusively designed software. Functions within the software allow users to personalize colors for each LED, monitor fan performance, and track CPU temperature.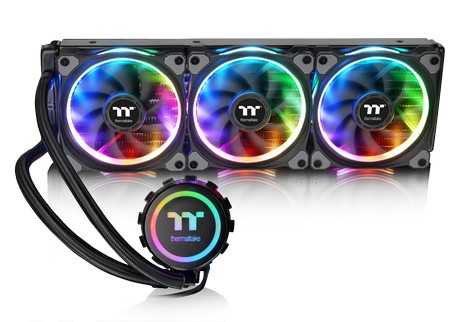 Thermaltake Floe Riing RGB TT Premium Edition Series will be available on the market soon and is on display at the COMPUTEX Taipei 2017, during May 30th (Tue) – June 3rd (Sat) in TWTC Nangang Exhibition Hall (4th floor, booth number N104); we look forward to your visit!
Further information about Thermaltake at COMPUTEX Taipei 2017 is available online:
http://computex2017.thermaltake.com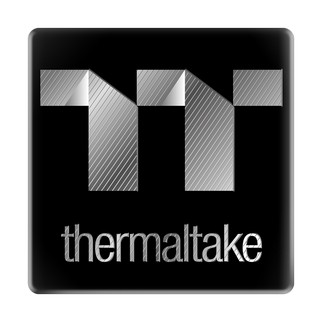 TT Premium
To continue achieving the corporate mission of delivering the perfect user experience, Thermaltake developed "TT Premium" with the essence of combining supreme quality products with a new logo design. TT Premium is far more than just a guarantee of quality. Behind the name, it represents the passion in DIY, Modding and Thermaltake's desire to be the most innovative brand in the PC hardware market. To satisfy the demand of the high-end PC users, TT Premium follows its core values of Excellent Quality, Unique Design, Diverse Combinations and Boundless Creativity to provide a high performance PC product for every enthusiast.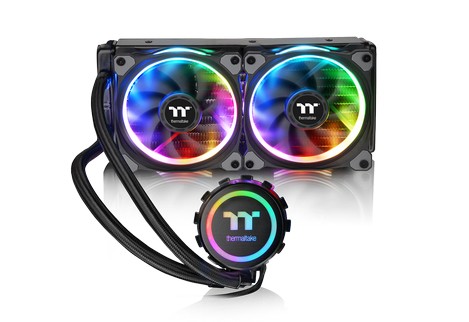 Features of Thermaltake Floe Riing RGB TT Premium Edition All-in-One Cooler Series:
Exclusive LED Waterblock Design
Featuring 6 addressable LEDs, great light coverage, and uniform color and brightness, the built-in LED waterblock can paint your build with 16.8 million colors.

Patented Riing Plus RGB TT Premium Edition Radiator Fan
A high-static pressure fan with a patented 16.8 million colors LED ring and 12 addressable LEDs, the Riing Plus RGB utilizes compression blades, hydraulic bearing and can be controlled by the patented Riing Plus RGB Software and an exclusively designed mobile app.

High Efficiency Radiator
Special designed 240mm/280mm/360mm large surface radiator not only doubles the cooling surface, but also supports up to 4x120mm /4x140mm/6x120mm fans for additional heat dissipation.

High Performance Waterblock and Durable Sleeved Cable
The high performance copper base plate accelerates the heat conductivity. The pre-refilled coolant reduces any stress from liquid replenishment hassle. Additionally, the reinforced sleeved cable delivers the best durability and prevents the tubing from any damages.

High Reliability Pump
The high quality and reliable pump enables the maximum amount of water circulation, keeping the copper plate continuously cool. The low evaporation tube effectively decreases the loss of coolant; therefore no refill is either needed or required.

Simple Setup
Featuring superb cooling performance, the cooler series provides an easy installation system and a totally maintenance-free operation, requiring only the minimum amount of space in the chassis.