Thermaltake Releases the New Pacific PR22-D5 Plus Reservoir/Pump Combo with Software-Controlled 16.8 Million Colors LED Cap
Bring the Best Performance and Style for Your Watercooled Gaming PC

Taipei, Taiwan-August 22nd, 2017-Thermaltake, a leading brand in PC cooling solutions, is excited to introduce the lastest Pacific PR22-D5 Plus Reservoir/Pump Combo. This combo unit is a high-quality 300ml reservoir with an integrated D5 pump and a software-controlled 16.8 million colors LED cap. The Pacific PR22-D5 Plus Reservoir/Pump Combo is made of POM and PMMA materials, which can sustain the maximum pressure up to 99 PSI, and achieve maximum discharge up to 1135L/hr that offer exceptional performance, unrivalled reliability. Moreover, the LED cap is manufactured with 12 addressable LEDs that are controlled by Riing Plus RGB Software. Functions within the software also allow users to monitor fan performance and track CPU temperature. With multiple mounting options, this combo unit is the right choice for PC enthusiasts, making the system a showcase for all to see! Thermaltake Pacific PR22-D5 Plus Reservoir/Pump Combo is now available for purchase on TT Premium online shop. The product availability and price vary by country and region, please contact the local Thermaltake sales representative for further information.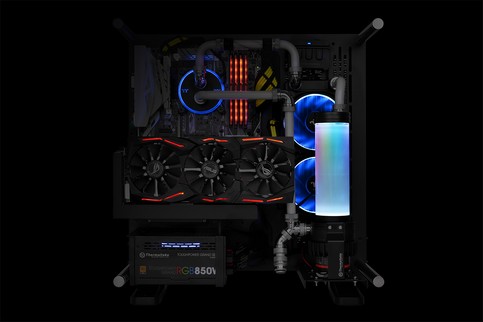 Where to buy:
TT Premium Global – http://ttpremium.com/product/pacific-pr22-d5-plus/
TT Premium Asia – https://asia.ttpremium.com/product/cl-w187-pl00sw-a/
TT Premium Australia – https://ttpremium.com.au/product/pacific-pr22-d5-plus-reservoirpump-combo/
TT Premium China – https://ttpremium.com.cn/?post_type=product&p=8284
TT Premium Europe – https://ttpremium.eu/?post_type=product&p=3712&preview=true
TT Premium Taiwan – https://ttpremium.com.tw/?post_type=product&p=6916

TT Premium
To continue achieving the corporate mission of delivering the perfect user experience, Thermaltake developed "TT Premium" with the essence of combining supreme quality products with a new logo design. TT Premium is far more than just a guarantee of quality. Behind the name, it represents the passion in DIY, Modding and Thermaltake's desire to be the most innovative brand in the PC hardware market. To satisfy the demand of the high-end PC users, TT Premium follows its core values of Excellent Quality, Unique Design, Diverse Combinations and Boundless Creativity to provide a high performance PC product for every enthusiast.

Exclusively "Tt LCS Certified"
Tt LCS Certified is a Thermaltake exclusive certification applied to products that pass the design and rigorous hardcore enthusiast standards that only the world's best LCS chassis are held to. The Tt LCS certification was created so that we at Thermaltake can clearly convey to power users and enthusiasts which chassis are built and tested to be best compatible under extreme liquid cooling configurations. This ensures you get the best performance, compatibility and features.

Features of Thermaltake Pacific PR22-D5 Plus Reservoir/Pump Combo:
Exclusive LED Cap Design
Controlled by the patented Riing Plus RGB Software and the app, the built-in LED ring features great light coverage, uniform color and brightness, and 12 addressable LEDs that can paint your reservoir with 16.8 million colors.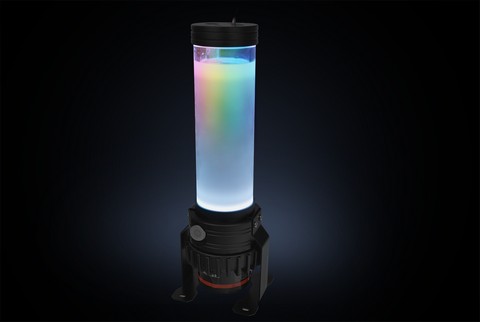 Patented Riing Plus RGB Software & Exclusively Riing Plus RGB App
Monitor the fan performance, adjust the fan speeds, and customize the lighting effects for Thermaltake RGB liquid cooling products with the patented Riing Plus RGB Software and an exclusively designed mobile app. The software is included a number of preset fan modes that enable users to set the fans to run at the optimal RPM range or disable PWM. When performance operating issues have emerged, the software also offers real-time fan warning alerts. Moreover, users are allowed to personalize the lighting by the recommended color palette or the present light modes. Users can switch between different lighting schemes along with three "Color Modes" and four "Light Speeds". Most uniquely, the light color will correspond to CPU temperature when applying "Thermal Mode".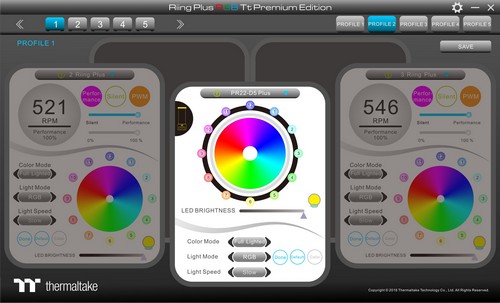 Digital Lighting Controller
The controller is designed with a DIP switch on the back. Hence, you can set a number for each controller easily. You can add up to 5 devices to one lighting controller and up to 16 controllers to the software. The controller and the coding guide are included in all packs.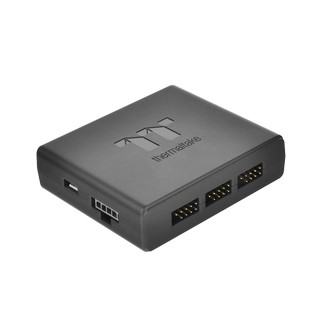 Driven Performance
Made in Taiwan, the PR22-D5 Plus Reservoir/Pump Combo top cap supports rubber washers for a proper seal, including two predrilled G1/4" ports for fittings. The top cap also comes with removable design that allows users open it out to clean the reservoir thoroughly. Most importantly, the combo unit features 6mm thick of the pipe wall, and can sustain the maximum pressure up to 99 PSI (Pounds per square inch).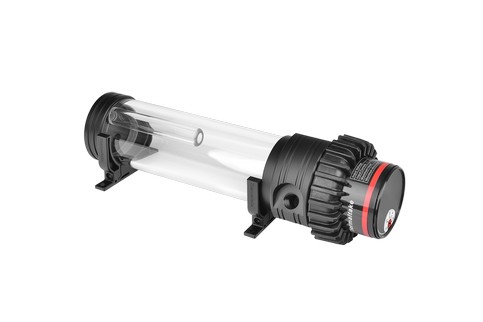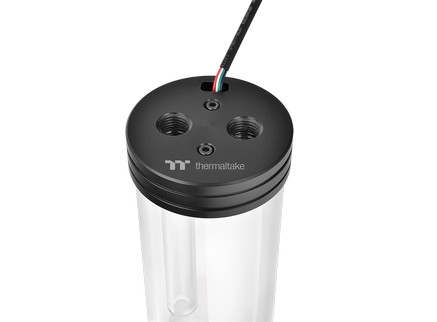 Ultimate Speed Controller and High-lift Pumping
The PR22-D5 Plus Reservoir/Pump Combo is designed with a manual speed control knob to provide five speeds. Maximum discharge up to 1135L/hr offers high cooling performance to your components. High-lift pumping of the pump head reaches up to 15 feet high at the maximum speed. Besides, the pump is compatible with Thermaltake Pacific reservoirs and fittings series. Users can build up advanced liquid cooling loop, two GPUs, three radiators, or even more DIY components at the same time, further increasing system performance while giving ultimate control for your watercooled PC.

Heat-resistant Acrylic Tank
The cylindrical reservoir is made of reliable, lightweight POM and PMMA construction, which is crystal clear and highly durable. High quality acrylic (PMMA) tube maximum working temperature is 131℉ (55℃).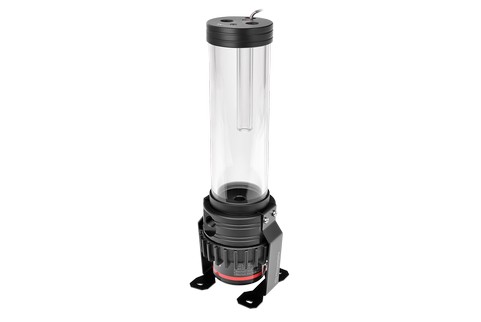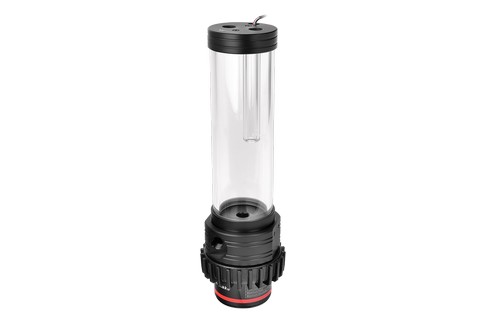 Easy and Flexible Application
With two brackets connected to both ends, the combo can be solid hold inside the chassis. Moreover, the combo unit can be installed either horizontally or vertically, allowing enthusiasts to incorporate externally-modular upgrades for their chassis and build up superior water cooling system from an aesthetic standpoint.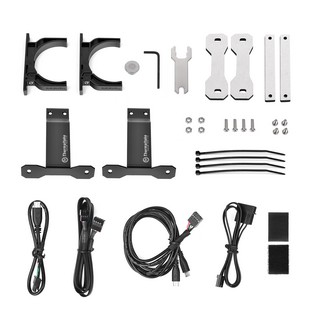 For more details on Thermaltake Pacific PR22-D5 Plus Reservoir/Pump Combo, please visit:
http://www.thermaltake.com/products-model.aspx?id=C_00003126